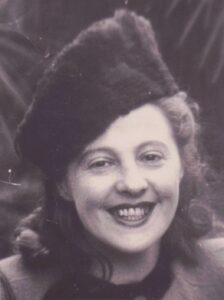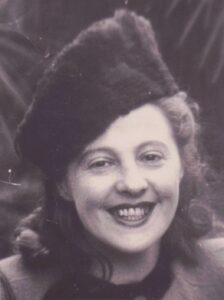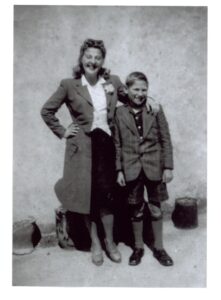 Internee Number 6
By Maria Eisenstein, Curated by Carlo Spartaco Capogreco
Translated by Will Schutt
Published when the war was still raging north of Rome, Internee Number 6 is the first memoir of the fascist internment of foreign Jews. Although known to scholars, for decades it has remained buried in a few bibliographies, while nothing was known of its author. Maria Eisenstein's authorship is elusive and ironic, worldly, and unapologetic. She wrote beautifully in Italian to the point that her diary, first published after she crossed the Allied line and fled South, was once considered fiction. For many years, the author's fate remained the topic of speculation. In 1989, historian Carlo Spartaco Capogreco identified her and traced her story. Eisenstein's diary is an extraordinary document on the sudden incarceration of "foreign Jewish civilians" in fascist Italy. It paints a subtle fresco of the cultural and psychological atmosphere in which wellmeaning men and women performed the ideals of morality, strength, and valor that gave Fascism its foundation.
About the Author
Little is known about Maria Moldauer's life prior to her arrival in Florence in the early 1930s and after her departure from Italy in 1948. She was born in Vienna to Polish-Jewish parents in 1915 and moved to Italy to study literature at the University of Florence, where she wrote her thesis on Goethe's Faust.
After graduating, she moved to Catania, Sicily, with her lover, Franco. In Catania, she ran in literary circles and befriended the writer Vitaliano Brancati.
On June 10, 1940, when Mussolini ordered the arrest of all Jews who did not have or had been stripped of Italian citizenship, Moldauer was immediately incarcerated and later sent to the women's concentration camp in Lanciano, Abruzzo. She spent the following three years in various places of confinement.
While interned in Guardiagrele, Abruzzo, she met the Romanian internee Samuel Eisenstein. The two were married on February 4, 1942, by the Rabbi of Ancona, Elio Toaff.
The couple was once again transferred to surveilled confinement in Lanciano. After the armistice, on September 8, 1943, they fled to the mountains and planned to reach the front and the southern regions then controlled by the Allies. In the mountains they met other fugitives, including the Italian-Cuban writer Alba De Céspedes and her husband Franco Bounous, who were also traveling south. The two couples formed a close bond and managed to reach Bari, where they were employed by the Allies' Psychological Warfare Branch. Moldauer began collaborating with De Céspedes on her programs for Radio Bari.
As the front advanced, the two couples moved to Naples and became active members of the early post-war intellectual circles then trying to rebuild Italian culture after two decades of fascism. They continued on to Rome, where they settled after the liberation in June 1944. It must have been in Naples that Moldauer began to gather her notes into what would become her chronicle of the war years, Internee Number 6.
In Rome she reunited with the translator and literary scholar Gabriella Bemporad, whom she had known since her days in Florence, as well as with Vitaliano Brancati. The Eisensteins frequented the home of Franco and Mauro Lucentini, where intellectuals and writers from all walks of life mingled in liberated Rome.
Moldauer also collaborated with De Céspedes on her new magazine Mercurio and began to work with Rome's Jewish community assisting survivors and their families. Moldauer showed the manuscript of Internee Number 6 to Donatello De Luigi, whose publishing house was the first to open in Rome after the arrival of the Allies. De Luigi consulted with Irene Brin, a journalist and cultural organizer who had successfully navigated the transition out of fascism. Together they decided to publish the book, which would finally come out in August 1944.
In 1948 Maria and Samuel Eisenstein received their visas for the United States. They left on separate ships and parted ways shortly after their arrival. Both settled in California, where the scholar Carlo Spartaco Capogreco met Samuel in 1993. Maria died in 1994, shortly before Samuel was finally able to locate her.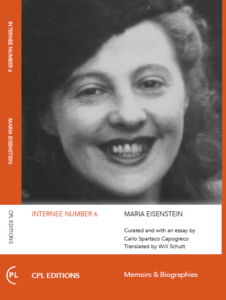 Author : Maria Eisenstein, Curated by Carlo Spartaco Capogreco
Translator: Will Schutt
Title : Internee Number 6
Year : 2022
Series : Memoirs
Paperback – ISBN 978-1-941046-34-0
Ebook: $9
Price paperback: $12
Publication date: June 1st, 2022.
AN EXEMPLARY BOOK AUTHORED BY A GHOST
Carlo Spartaco Capogreco
The Second World War was still raging when, in Rome, recently liberated by the Allied armies, Donatello De Luigi decided to launch a publishing house with two promising book series: "Political Notebooks" and "Books of the Day." One of the first titles in the latter series was Maria Eisenstein's diary, Internee Number 6. First published in October 1944.
In the foreword, which he insisted on writing himself, the publisher enthusiastically describes the new book as "neither diary nor novel, though with the raw truth of the former and the imagination of the latter, Maria Eisenstein's work should occupy a special place beside the books that will leave a lasting record of these troubled years." And he underscores the fact that – in spite of the "cramped and oppressive" situation at the concentration camp where the author was being held – "in few other books is the war at the heart of every stance and speech: Eisenstein's account remains alert to all the pain, all the terror."
Be it a diary or a novel (though the book is fundamentally a diary, even if it is not written in chronological order), Internee Number 6 represents the first extensive eyewitness account of life in a Fascist concentration camp. Though this testimony is sui generis, given its literary style, its value as a historical and political document is abundantly clear, a point supported by the fact that, firstly, the book was largely written at the time of the events it describes and published only a few years later, and, second, the story revolves around a subject – the concentration camp – which, in a country as forgetful and distracted as postwar Italy, has fallen into oblivion.