08Apr7:00 pm9:00 pmMagnifico in New York Corrado Cagli, Migrating Artists, and the Mirage of Italy7:00 pm - 9:00 pm The New York Public Library for the Performing Arts, Bruno Walter Auditorium, 40 Lincoln Center Plaza Memoria:Memoria
Event Details

As part of the Carnegie Hall Migrations Festival, Centro Primo Levi and the New York Public Library for the Performing Arts present an evening with art historian Raffaele Bedarida dedicated to the experience of Italian artist and cultural organizer Corrado Cagli.

The Cantori New York directed by Mark Shapiro will perform excerpts of Vittorio Rieti's music for the Magnifico.

Free (registration required) at 212-642-0142. Additional information: www.primolevicenter.org and www.nypl.org/lpa/events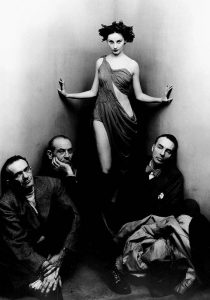 In 1948, the New York City Ballet presented The Triumph of Bacchus and Ariadne, a Renaissance poem by Lorenzo de' Medici whose refrain "del doman non v'è certezza" (the future holds no certainty) may have had a particular resonance in the immediate aftermath of World War II.
Behind the project was the painter, set designer and cultural organizer, Corrado Cagli who captured the irony of this carnivalesque reflection on time and man and called upon Georges Balanchine and Vittorio Rieti to bring it to the stage. The three shared experiences of migration that challenged traditional narratives.
In this Centro Primo Levi's program conceived for Carnegie Hall's Migration Festival, Cooper Union's art historian Raffaele Bedarida (author of Corrado Cagli: La pittura, l'esilio, l'America (Rome: Donzelli, 2018; English edition, New York: CPL Editions, forthcoming) will discuss Cagli'e exile as a significant anomaly in the history of European artists' forced migration.
Jewish and gay, Cagli had enjoyed a successful career in Fascist Italy during the 1930s. After the 1938 racial laws, he was censored and forced to leave the country. He served in the US army during World War II, participating in the landing in Normandy and the liberation of Buchenwald. With a special status as military artist, he depicted the horror of war in a breathtaking series of drawings that were immediately acquired by MoMA and the Whitney Museum.
In the immediate postwar period, Cagli emerged as an important cultural bridge, helping resume art exchanges between Italy and the United States. Together with other Jewish artists who had fled Italy – Vittorio Rieti, Saul Steinberg, Bruno Zevi – he helped the New York art world rediscover contemporary Italian art and design, and made it possible for emerging American artists to work in Italy.
The program will feature a multimedia display of Cagli's 1946-47 paintings and drawings for the scenography and costumes of The Triumph of Bacchus and Ariadne (New York Public Library for the Performing Arts) and a live execution of passages from Rieti's score, which were never performed in public since 1948.
Raffaele Bedarida is an art historian and curator specializing in Italian art, politics, and cultural diplomacy in the mid-20th century. Assistant professor of art history at Cooper Union, he regularly lectures on modern and contemporary art topics at the Solomon R. Guggenheim Museum and MoMA. He holds a PhD from the CUNY Graduate Center. Bedarida is the author of two books in Italian, Bepi Romagnoni: Il Nuovo Racconto (Silvana Editoriale, 2005) and Corrado Cagli: La pittura, l'esilio, L'America (Donzelli, 2018). He is currently working on his book manuscript: Art Exchange Across National Boundaries: The Promotion of Contemporary Italian Art in the Unites States, 1935-1969.