Paolo Milano and Renato Poggioli. Exile and Creativity Series.
11Dec6:00 pm8:00 pmPaolo Milano and Renato Poggioli. Exile and Creativity Series.6:00 pm - 8:00 pm Italian Cultural Institute, 686 Park Avenue
Event Details

An evening dedicated to Paolo Milano and Renato Poggioli, two Italian intellectuals instrumental in the development of a cultural dialogue between Italy and the United States, particularly in the fields of literature and comparative literature.

Paolo Milano came to the United States in 1938 due to the racial laws and remained until 1957;  Renato Poggioli, a fervent antifascist, left Italy as well, in 1938, never to return, but maintaining strong bonds with his country of origins, so much so that he founded an Italian magazine called Inventatio (Inventory).

Franco Baldasso and Mattia Acetoso will speak, respectively, about Milano and Poggioli. With the presence of Sylvia Poggioli, the daughter of Renato, a correspondent from Italy for NPR.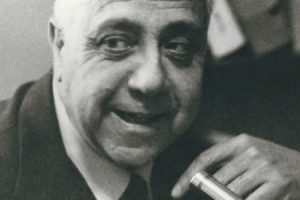 Paolo Milano (Rome, 27 July 1904 – Rome, 2 April 1988) was an Italian literary critic and journalist.
He is best known for having been the literary critic of the weekly l'Espresso from the late fifties to the mid-eighties.  He was literary critic of l'Italia Letteraria and Editor in chief of Scenario magazine before, due to the fascist racial laws of 1938, moving to Paris, then, in 1940, to the United States. Together with his wife Rachel and his son André he lived for fifteen years in New York, where he taught theater history at the New School for Social Research, then Romance languages ​​and comparative literature at Queens College, collaborating in English with various newspapers and periodicals. In the fifties, together with friends Nicola Chiaromonte, Dwight Macdonald, Niccolò Tucci, Mary McCarthy, he supported the dialogue between American and European intellectuals, outside the limits imposed by the Cold War. In 1957 he returned to Italy. In 1991, Adelphi published Note in margine a una vita assente, an anthology from Milano's journals from 1947 to 1955 edited by Laura Gonzales. Two years later, Gonzales edited for Sestante the short story Racconto newyorkese that Milano wrote in 1953, elaborating on a story reported to him by Saul Bellow (who, in 1947, had dedicated to Milano, his  second novel, The Victim).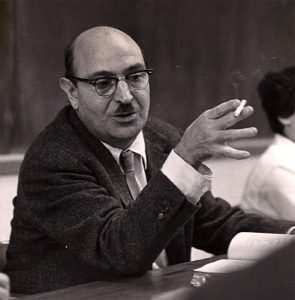 Renato Poggioli (Florence, April 16, 1907 – May 3, 1963), was an Italian academic specialized in comparative literature.
From 1938 he lived in the United States. At the time of his death, he was Head of the Department of Comparative Literature at Harvard University. A prolific writer and translator, fluent in five languages, he is considered one of the founders of the academic discipline of Comparative Literature in the United States. In 1929 he received his doctorate in letters with a major in Slavic literature at the University of Florence. He also worked as a translator and critic. He was an exchange professor at the University of Prague. In 1938 Poggioli, who wished to leave fascist Italy, came to the United States with his wife to teach in a summer program in Vermont. Virtually upon his arrival in New England, he became involved in anti-fascist initiatives that led in 1939 to the creation of the Mazzini Society, of which he also served as interim president. In the fall of 1938 Poggioli was hired as a visiting lecturer in Romance language and literatures at Smith College where he gave a course in Dante. The following year he became Assistant Professor of Italian Literature teaching graduate students at Brown University, with an interruption from 1943–45 when he served in the United States Army as a translator. The academic year 1946-47 saw his first stint as visiting professor at Harvard. During the summer of 1947 he also taught at the University of Chicago.
Poggioli's most ambitious project during this period was founding, with Italian writer Luigi Berti, who was based in Florence, the Italian language literary periodical Inventario (1946-1963) to which Poggioli contributed numerous articles and translations. The publication was intended to expose Italian readers, whose horizons had for years been narrowed by Mussolini's censorship, to a broad range of new publications in contemporary literature of all countries. It published literary and critical works by and about such important writers as Giuseppe Ungaretti, Pablo Neruda, T.S. Eliot, Vladimir Nabokov and Boris Pasternak. Poggioli's own magnum opus, his Teoria dell'arte d'avanguardia, which traced the connection between the twentieth-century avant-guarde and the legacy of nineteenth-century Romanticism first appeared in Inventario. In the fall of 1947, Harvard University, as part of its ongoing expansion of its department of Slavic studies, hired Poggioli. In 1951 he became head of the Department of Slavic Studies, switching over in 1952 to head the Department of Comparative Literature, a position he held until his death, caused by a car accident.
Poggioli is briefly mentioned in Saul Bellow's 1964 novel Herzog.
Speakers:
Sylvia Poggioli, daughter of Renato, is senior European correspondent for NPR's international desk covering political, economic, and cultural news in Italy, the Vatican, Western Europe and the Balkans.
Franco Baldasso (Ph.D, New York University) is the Director of Italian Studies, Assistant Professor of Italian, and Director of the Study Abroad Program in Italy at Bard College.
Mattia Acetoso is an Assistant Professor of Italian at Boston College. He received his PhD from Yale University in 2012.