Diogo Ramada Curto, Eric Dursteler, Julius Kirshner, Francesca Trivellato, From Florence to the Mediterranean and Beyond, Leo S. Olschki, Florence, 2009
Authors
Anthony Molho was born in 1939 in Thessaloniki Greece. Following his secondary studies in a classical gymnasium, he began his university studies in the USA (Western Reserve University) from which he received his PhD in 1965, while in the meantime he spent more than two years studying in Italy (at the Facoltà di Lettere of the University of Florence). He has taught at the University of Vermont, Michigan State University, and, from 1996 to 2000, at Brown University, where for his last three years he was the David Herlihy University Professor and Professor of History. He has been Directeur d' études invité at the Ecole des Hautes Etudes en Sciences Sociales, and visiting scholar at the Maison des sciences de l' homme. Together with Diogo Curto, he has been directing a research project entitled: "Rethinking/Rewriting the History of Europe." In addition, in an attempt to bridge the gap between advanced historical research and its dissemination to non-scholarly circles (professors in secondary schools and journalists), together with Diogo Curto and Bo Strath he founded the Academy of European History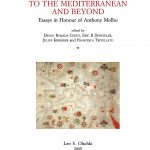 Published by three historians who trained with Professor Anthony Molho (Francesca Trivellato, Yale University; Diogo Ramada Curto, European University Institute; Eric Dursteler, Brigham Young University) to celebrate his seventieth birthday, this collection of essays pays tribute to the the teacher, the scholar, and the inspirer of critical thinking and historical awareness.
"It is impossible in this brief space to offer a full expose´ of the manifold, subtle, and often provocative historical and historiographical contributions that Tony has offered and continues to offer to us. We hope that the essays that follow pay tribute to his outstanding scholarship and his deep intellectual
and personal engagement with historical research and academic work. The breadth of the themes and geographical areas covered in this volume are evidence of the profound mark that Tony's published work has left in a wide range of fields in late medieval and early modern European and Mediterranean history, and perhaps even more, on the many scholars who have known him as a colleague, as well as those whom he has taught and mentored on two continents over the course of four decades.