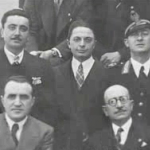 The Center for Contemporary Jewish Documentation in Milan to Lead Research Commission on Fiume 1938-1945 and Palatucci
June-August 2013 –  The Union of the Italian Jewish Communities appointed the Center for Jewish Contemporary Documentation in Milan to form and lead a Research Commission on the persecution of the Jews of Fiume (1938-1945) and Giovanni Palatucci.
The Commission is comprised of historians selected by CDEC and recommended by institutions including the Shoah Museum in Rome, Centro Primo Levi, New York and the Italian Ministry of the Interior: Michelel Sarfatti (CDEC), Mauro Canali (Università di Camericno), Liliana Picciotto (CDEC), Micaela Procaccia (National State Archives), Susan Zuccotti, Marcello Pezzetti (Shoah Museum, Rome), Matteo Napolitano (Università Marconi).
It will analyze and integrate the documentary resource collected by scholars since the year 2000, in order to assess the historical basis of the claims of mass rescue attributed to Palatucci, the deputy police commissioner who was stationed in Fiume between 1937 and 1944.
During his mandate in Fiume, Giovanni Palatucci was in charge of the foreigners' office and of compiling and maintaining the census of the Jews since 1938. In September 1943 he took the oath to Mussolini's Italian Social Republic and served under three consecutive senior regents and the German authorities. After the arrest and deportation of the RSI Chief of Police and the defection of his direct superior, Palatucci was accused of delivering a document to the British, arrested and deported to Dachau. He died of typhus in February 1945.
In the past years, studies on Palatucci – based on the examination of  documents from Rijeka's State Archive and cross-referenced with records from German, Israeli and Italian archives – exposed the fact that these documents do not corroborate and often contradict key elements in Palatucci's alleged rescue actions. Moreover, data from seminal studies on the deportation of the Jews of Fiume and the influx of refugees from Italy's Eastern border challenges the main assumptions of Palatucci's biography.
Yad Vashem, which recognized Palatucci as a Righteous Among the Nations for protecting one woman in 1940, is also reviewing the new documentation.
Research institutions and government agencies established that the case should become the object of historiographical inquiry and an effort should be made to integrate it in the historical narrative of the persecution of the Jews of Fiume and the Shoah in Italy.
The Palatucci Case in the Press
Alessandra Farkas, Il Corriere della Sera
Patricia Cohen, The New York Times
Jill Goldsmith, Tablet Magazine
Furio Colombo, Il Fatto Quotidiano
Michele Sarfatti, Il Corriere della Sera
Alexander Stille, Canadian Public Radio
Giuseppe Galzerano, Il Manifesto
Simon Levis Sullam, The Independent
Stefan Slavković, NIN Weekly Serbian Magazine