David Ruderman, Preachers of the Italian Ghetto, University of California Press, 1992
David Ruderman
David B. Ruderman is Joseph Meyerhoff Professor of Modern Jewish History and Director of the Center for Advanced Judaic Studies at the University of Pennsylvania. Among his books are Jewish Enlightenment in an English Key and Jewish Discovery and Scientific Thought in Early Modern Europe.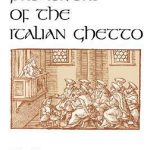 By the mid-sixteenth century, Jews in the cities of Italy were being crowded into compulsory ghettos as a result of the oppressive policies of Pope Paul IV and his successors.
The sermons of Jewish preachers during this period provide a remarkable vantage point from which to view the early modern Jewish social and cultural landscape. In this eloquent collection, six leading scholars of Italian Jewish history reveal the important role of these preachers: men who served as a bridge between the ghetto and the Christian world outside, between old and new conventions, and between elite and popular modes of thought. The story of how they reflected and shaped the culture of their listeners, who felt the pressure of cramped urban life as well as of political, economic, and religious persecution, is finally beginning to be told. Through the words of the Italian ghetto preachers, we discover a richly textured panorama of Jewish life more than 400 years ago.