QABBALAT SHABBAT | Shiru Shir: The Cantorial Tradition of the Libyan Jews. Conversation with David Meghnagi
April 25 | Tefilla 7:00 pm | Dinner 8:00 pm
Congregation Magen David of Manhattan | 177 Sullivan Street
www.magendavidny.org
David Meghnagi was born in Tripoli and moved to Italy with his family after the pogrom of 1967, the third in 22 years. He is a professor of Clinical Psychology at the Università di Roma Tre. He is a full member of the International Psychoanalytical Association (IPA).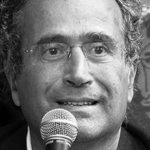 He held the position of vice-president of the Union of the Italian Jewish Communities and is a member of the Italian delegation of the International Holocaust Remembrance Alliance (IHRA) and the International Psychoanalytical Association (IPA). Prof. Meghnagi is the editor in chief of "Trauma and Memory," the European Review of Psychoanalysis and Social Science, and a member of the board of the International Journal of Psychoanalysis.
Since the 1980s Prof. Meghnagi has been active in Israeli-Arab and Jewish-Christian dialogue.
Among his many activities, David Meghnagi is a scholar and interpreter of the Mediterranean Jewish liturgical tradition. He conducts a preservation project collecting liturgy in Hebrew, Aramaic, Ladino and Arabic. His exploration of the melodies and poems handed down in the immediate and extended family resulted in a beautiful CD titled Shiru Shir: The Cantorial Tradition of the Libyan Jews.