Lily Tuck, A Woman from Rome: Elsa Morante, Harper Collins, 2008
Elsa Morante was born in 1912 to an unconventional family of modest means. She grew up with an independent spirit, a formidable will, and a commitment to writing—she wrote her first poem when she was just two years old. During World War II, Morante and her husband, the celebrated writer Alberto Moravia, were forced to flee occupied Rome—Moravia was half-Jewish (as was she) and wanted by the Fascists—and hide out in a remote mountain hut. After the war, Morante published a series of prize-winning novels, including Arturo's Island and History, a seminal account of the war, which established her as one of the leading Italian writers of her day.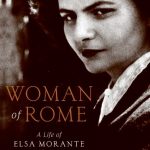 Lily Tuck's elegant and unusual biography also evokes the heady time during the postwar years when Rome was the film capital of the world and Morante's counted among her circle of friends the filmmakers Pier Paolo Pasolini, Luchino Visconti, and the young Bernardo Bertolucci. A charismatic and beautiful woman, Morante had a series of love affairs—most unhappy—as well as friendships with such famous literary luminaries as Carlo Levi, Italo Calvino, and Natalia Ginzburg. As a couple, Morante and Moravia—the Beauvoir-Sartre of Italy—captivated the nation with their intense and mutual admiration, their arguments, and their passion.
Wonderfully researched with the cooperation of the Morante Estate, filled with personal interviews, and written in graceful and succinct prose, Woman of Rome introduces the American reader to a woman of fierce intelligence, powerful imagination, and original talent.