Alessandro Cassin
Literature can often open a window not only onto the inner world of an author but also on an entire culture. This is one of the reasons why Italian fiction has often been seen as an indispensable tool for those who wish to deepen their understanding of Italian culture. Yet too often, we think of literary authors as recluses who live and create in isolation one from the other. We are taught of rival literary movements, of small groups of authors who share regional, political, aesthetic, or stylistics concerns, of those sponsored by a particular critic or who gravitate around one of the competing literary journals or publishing houses. However, a closer look reveals that beyond all of this, the relationships between writers —without denying rivalry and competition— are often fueled by deep friendships, generosity, mutual curiosity, and mentoring. And sometimes, a meeting abroad, in this case in the United States, can amplify the bond.
Throughout his life, Alain Elkann has established meaningful bonds with fellow writers from generations preceding him, contemporary and younger. A recent visit to New York was the occasion for an informal talk on his recollections of his encounters with Giorgio Bassani and, indirectly, with Pasolini.
Alessandro Cassin. You spent some time with Giorgio Bassani in New York and traveling in the United States. Can you share some recollections?
Alain Elkann. Though we were never close friends, he left a lasting impression; I remember him with gratitude. Over my years of reading and teaching his work, I have gained a much greater appreciation for the artist. My first impressions of him did not really fit my idea of a literary writer.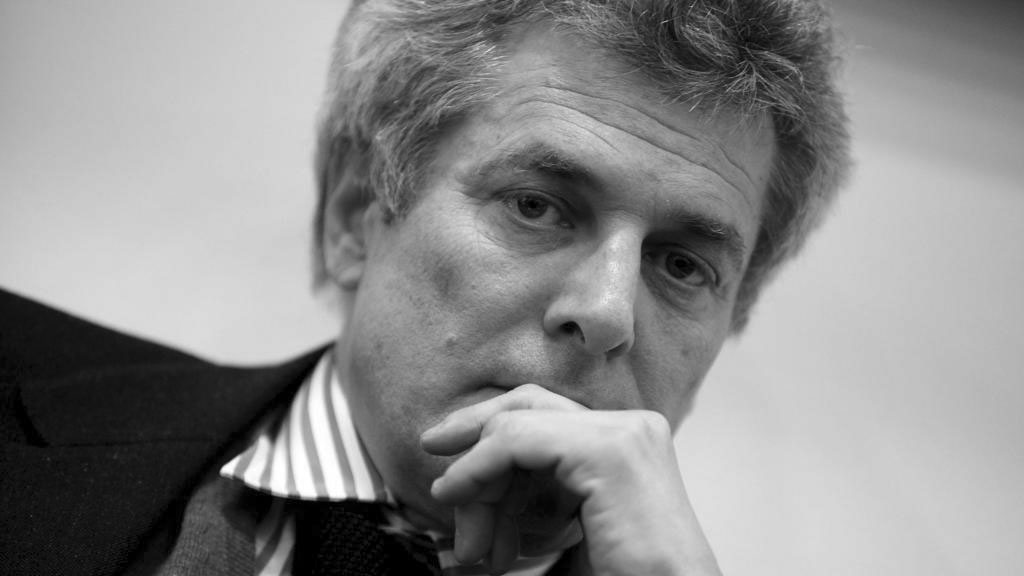 AC. What do you mean?
AE. I am talking about first impressions. His physical appearance was more like a "professional" than an artist: he dressed rather elegantly, usually with a gray suit or a blue blazer over gray pants. He wore a camelhair coat, a scarf, a Borsalino-style hat, and smoked the pipe. Despite his looks, which made me think more of a lawyer, there was a wild streak that emerged in certain behaviors. I remember, for instance, how he loved driving his black Fiat Coupe at high speed.
He combed his hair back, not very tall, with an open rathe face enlivened by his round eyes, which I remember as light-colored, maybe blue. He was very articulate and spoke with conviction despite a slight speech impediment. He could be both humorous and choleric.

AC. What do you remember about him in New York?
AE. I met him here several times in the '70s. He loved the city; he enjoyed meeting writers, publishers, and the press. And, of course, he was pleased by his success. He
lectured at the Italian Cultural Institute and was a visiting professor at Berkeley and the University of Indiana. It struck me as very strange how he would not miss any chance to publicly distance himself from the film De Sica had made from The Garden of The Finzi Contini.
AC. He felt strongly that the movie betrayed his novel…
AE. I understand that, but a movie is necessarily a departure from a literary work. De Sica was a great director, and his film gained the Academy Award for Best Foreign Language Film in 1972. The public was moved by it. I did not dare to point this out to him, but it was the movie that made Bassani famous in the United States.
AC. It was one of the first exposure to the particular story of the Jews of Ferrara and, by extension, Italian Jews under Fascism, yet it was not the film that Bassani had envisioned.

AE. Some writers accept that film versions of their work will never fully satisfy them. Bassani took everything at heart. I remember his being sometimes enraged by what seemed small things of no importance from the outside. One morning we met at a coffee shop on the corner of Madison Avenue and 78th street. Suddenly, he exploded with a waiter on the other side of the counter. I am no longer sure precisely what bothered him so much. It was either that the croissants were displayed in the open air rather than under a glass bell or the other way around. In any case, his intense displeasure with the presentation on the counter seemed out of proportion…
I think he was a nervous person. Yet I also remember the elegance of his conversation and his pleasant manner while discussing literature, even with people whose views he did not share.
AC. Had you seen De Sica's film at the time?
AE. Yes, and further, there were stories about it told in my family. A family friend, Giorgio Treves, was the Assistant Director to De Sica. Now, when they were supposed to shoot the scene of the Passover Seder, they realized they did not have yarmulkes. Giorgio remembered that my grandmother, Olga Ovazza Cinci, at the time was hand knitting yarmulkes for friends and family. So it was she who made the ones for the film!

AC. You traveled with Bassani in the US?

AE. He asked me to accompany him to a university where he was teaching. He was happy to be here and felt deeply connected with American literature, particularly with Hawthorne.

AC. What else did you do together in the US?

AE. In New York, we had a common friend, Niccolò Tucci. He was an unusual writer who wrote both in English and Italian. Eric Linder, the great literary agent, adored him. On the walls of Linder's office in Milan, there was only one photograph of an author: one of Niccolò Tucci.
When I first met Tucci in the early 1970s, he had separated from his wife and lived a bohemian life in the upper East Side rather meagerly. Tucci often had friends over for lunch and would serve a vegetable lentil soup and some rather undrinkable cheap red wines. He was an eccentric, often wearing 19th-century style Edwardian blazers made for him by a tailor in Paris.
Years before, he had been in the Diplomatic service and had befriended Filippo Caracciolo. In any event, he gathered together interesting literary personalities, and it was among his friends that I heard Bassani speak about literature passionately and at length.
AC. How had you met Giorgio Bassani?
AE. At the beginning of my career, a friend, the Neapolitan lawyer Alessandro D'Urso, invited me to Bassani's home in Rome for lunch. We had a pleasant conversation in which I mentioned I had just finished my first book. After lunch, Bassani took us to the dog races, then split. Soon after publishing my first novel, Il tuffo, Bassani, of his own initiative, led the book launch press conference at Mondadori's headquarters in Via Sicilia. It was naturally a great honor for me and something for which I will always be grateful.
Further, when I had my first book signing at Libreria Bocca, a beautiful bookstore in Piazza di Spagna, Bassani showed up and said some flattering words. I remember this so vividly because it was my first book, and the bookstore had a full window display with my book. Finally, that day I felt I had become "a writer", and Bassani played a role. Mondadori was probably Italy's major publishing house at the time, and my book was also the first after Leonardo Mondadori had taken the helm.

AC. Did you see him often after that?
AE. I would not say often, but we had a common friend who became a kind of go-between for our meetings: Enzo Siciliano. Bassani, also an editor at Feltrinelli, had published his first novel, La coppia, and they remained friends. I subsequently met with Bassani more often with Siciliano than just the two of us.
Siciliano was also very close to Alberto Moravia, whom I had just begun to befriend.
AC. Many years later, Siciliano wrote the best-known biography of Pasolini.

AE. I cannot think of Bassani without thinking of tennis and of Pasolini. Here is how these connect in my memory. Bassani was a good tennis player; we played together at a tennis club in Rome. Mostly I remember
playing with him in Pordenone while we were staying at the home of Leonardo Mondadori and his wife, Paola Zanussi. I can see Bassani in his tennis outfit and later in his room, sitting on the bead and reading his poems to me out loud. Then, one day, without explanation, he urged me to get into his car. He drove off fast, without speaking for a while. He broke that strange, rather sullen silence to tell me we were headed to Casarsa, in Friuli, to visit Pasolini's grave.

AC. Bassani and Pasolini were such different writers and yet had been very close. They both studied and "became writers" in Bologna. When Bassani was ready to publish his first collection of stories Cinque storie ferraresi, (Within the Walls), he asked Pasolini for advice on the order in which they should appear… And in turn, Pasolini often shared his manuscripts with Bassani before publication.
AE. I don't know much about that relationship, but our visit to Pasolini's grave was very revealing. A sort of pilgrimage. He was taking me to visit what he considered a great poet, a great writer, and without words, he was trying to pass on something essential to me.
AC. You have been a close friend to Alberto Moravia, more than that, he entrusted you with his life story, which became that famous book. Both Moravia and Bassani were close and had great respect for Pasolini, who was such an iconoclast and a different kind of writer from either of them.

AE Indeed. Moravia was extremely fond of Pasolini, I remember that speech he gave in Campo dei Fiori, Rome, after his death, where he urged the crowd to pay respect, repeating that only a few real poets are born each century and that Pasolini was one of them…
Both Jewish and belonging to the same generation, Bassani and Moravia could not have been more different as men and writers. And yet each in his way, made sure that I was aware of Pasolini's artistic trajectory.
AC. In what over contexts did you meet Bassani?
AE. Bassani was a very prominent personality in Italy, not only as a writer but as a publisher with Feltrinelli. We owe him the posthumous publication and worldwide success of Lampedusa's The Leopard. So I run into him on several official occasions. For instance, I remember him vividly at the home of Maria and Goffredo Bellonci, where the prestigious Premio Strega was awarded. I see Bassani there in a suit and a tie, his Tuscan cigar between his fingers. On the evening of the award, he was in charge of reading the names on the ballots and then proclaiming the winner. I often saw him at the home of Susanna Agnelli, whose boyfriend, at that time, Cesare Garboli was an influential critic and a friend of Bassani's.
I also remember meeting him with Mario Soldati, with whom they were working on a film. Years later, again in New York, I spoke about Bassani a great deal with my friend, the architect Pietro Cicognani, because the protagonist of Bassani's The Heron, was based on Cicognani's uncle.
AC. Did you meet Bassani later in his life?
AE. I did once, but he was no longer physically and mentally well.

AC. Despite moving to Rome after the war, Giorgio Bassani centered almost all of his fiction around the Jews of Ferrara. In recent years you were instrumental in the creation MEIS (Museo dell'Ebraismo Italiano e della Shoah) Italy's only National Jewish Museum in Ferrara.

AE. When I was an adviser to Minister Urbani, I convinced him, his undersecretary, Vittorio Sgarbi, and Dario Franceschini (both originally from Ferrara), on the idea of creating a National Jewish Museum in Bassani's hometown. Italy from 1938 for seven long years, had enforced the infamous Racial Laws. Yet, in the postwar years, had never built a museum to preserve the memory of the Shoah or of the rich Italian Jewish traditions. It was a long process: MEIS was inaugurated in 2017. I take pride in having conceived this"masterpiece of political friendships". Today it's a vibrant institution and, in many ways, a tribute to Bassani.
AC. Do you have contacts with Bassani's family?

AE. His daughter Paola Bassani asked me to join the Foundation dedicated to her father, which I was happy to do though I do not participate much in its activities. I did, however, recommend Andrew Wylie's literary agency to her, and I think this has helped with international editions and translations.
AC. In recent years, in your creative life or in your teaching, have you thought much about Bassani?

AE. Progressively, over the years, I have come to believe that Giorgio Bassani and Primo Levi together have created a lasting portrait of the Italian Jewish experience in the Twentieth century through great literature. They are eminently different writers and men. Bassani has described, like no others, the humiliation of the Racial Laws and the undoing of the fabric of Italian Jewish life, while Primo Levi has brought us into the hell of the German extermination machine.
Bassani understood and described with great insight the mechanism of humiliation as it pertains not only to the Jews but to all discriminated minorities. Yet, long before these issues were discussed and politicized, he draws a parallel between the discrimination of the gay protagonist and the Jews in his novel The Gold-Rimmed Spectacles. In this respect, he transcends the specificity of his main subject, becoming like Primo Levi, a master at analyzing human nature.
AC Bassani was a master in speaking about the specific, the very small, to address the universal.
AE. Exactly. He writes about the small world of the Jews of Ferrara in universal terms. Going back to discrimination: he analyzes the mechanism with laser precision. Today we have experienced Coronavirus: in a short time, our lives, our society closed down and changed so radically. Bassani shows us the mechanisms of discrimination: the horrors of being a full member of society one day and the next day being considered a pariah. Prejudice, whether racial, religious, sexual, or any other kind, follows the pattern he describes so masterfully.