Giorgio Bassani, The Garden of the Finzi-Continis, Everyman's Library, 2005
Giorgio Bassani
Giorgio Bassani (1916-2000) is one of the most prolific 20th century Italian writers. His charachters are recognized internationally for their memorably elusive characters, the many ways in which they defy stereotypes, and their uncanny portrayal of the Italian society between the end of Fascism and the post war period. Bassani was also an editor and literary critic. Through the journal Botteghe Oscure, which he edited from 1948 to 1960, Bassani brought to Italy for the first time such writers as T. S. Eliot, Dylan Thomas, René Char, Maurice Blanchot, Georges Bataille, and Truman Capote. Through the same pages he gave voice, both nationally and internationally, to the generation of Italian writers that was to represent Italy after the war: Mario Soldati, Italo Calvino, Elsa Morante, Bernardo Bertolucci, and Pier Paolo Pasolini. Bassani's literary instinct also brought to the press Tomasi di Lampedusa's The Leopard, while his ambivalent but passionate relation with the world of film occasioned some of the masterpieces that made 20th century Italian literature known worldwide.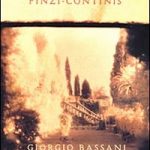 "The Garden of the Finzi-Continis is first and foremost a love story and on quite a different level from anything else Bassani wrote . . . Beneath every other theme and concern, and whether or not prompted by the political situation, the question [the novel] quite explicitly ask[s] is: what does it mean to have lived?" –from the new Introduction by Tim Parks
Giorgio Bassani's acclaimed novel of unrequited love and the plight of the Italian Jews on the brink of World War II has become a classic of modern Italian literature.
The Garden of the Finzi—Continis is a richly evocative and nostalgic depiction of prewar Italy. The narrator, a young middle-class Jew in the Italian city of Ferrara, has long been fascinated from afar by the Finzi-Continis, a wealthy and aristocratic Jewish family, and especially by their daughter Micol. But it is not until 1938 that he is invited behind the walls of their lavish estate, as local Jews begin to gather there to avoid the racial laws of the Fascists, and the garden of the Finzi-Continis becomes an idyllic sanctuary in an increasingly brutal world. Years after the war, the narrator returns in memory to his doomed relationship with the lovely Micol, and to the predicament that faced all the Ferrarese Jews, in this unforgettably wrenching portrait of a community about to be destroyed by the world outside the garden walls.
In 1970 Vittorio De Sica made the film into the Academy Award—winning film. Bassani rejected the film detailing the reasons in the article "The Betrayed Garden".