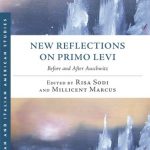 Risa Sodi, Millicent Marcus, New Reflections on Primo Levi: Before and After Auschwitz, Palgave McMillan, 2011
Risa Sodi, Millicent Marcus
Risa Sodi is Senior Lector II, and Language Program Director (Ph.D., Yale 1995). She is the author of Narrative and Imperative: The First Fifty Years of Italian Holocaust Writing, 1944-1994 (2007) and A Dante of Our Time: Primo Levi and Auschwitz (1990), as well as articles on modern Italian literature and history. She specializes in Jewish Italy and the Holocaust, Primo Levi, and Italian film. She also directs the Italian language program. Her courses include Primo Levi and Holocaust Writing, Jewish Italy in Literature and Film, Italian History since 1945, Italian Food and Literature, Italian through Opera and Film, Cross-Cultural Narratives: Italy and America, and Studies in Advanced Language and Style. Millicent Marcus (Ph.D. Yale, 1974) specializes in Italian culture from the interdisciplinary perspectives of literature, history, and film. She is the author of An Allegory of Form: Literary Self-Consciousness in the Decameron, (Stanford French and Italian Studies, l979), Italian Film in the Light of Neorealism (Princeton, l986), Filmmaking by the Book: Italian Cinema and Literary Adaptation (Johns Hopkins, l993), After Fellini: National Cinema in the Postmodern Age (Johns Hopkins, 2002), and Italian Film in the Shadow of Auschwitz (University of Toronto, 2007), as well as journal articles and encyclopedia entries on her fields of interest. Because literacy in the 21st century must be broadened to include the mass media as well as the written text, she brings a cultural studies approach to her teaching and research.
"It is usually said that the life of a writer is a life of the mind. Primo Levi is an exception: he wrote his masterpieces because he was acquainted with grief. The essays in this volume grasp this essential trait of his writings and acknowledge that they cannot be simply classified as contributions to the intellectual history of recent times. With extraordinary precision, all of them, together, open the door to the moral center of the writer's lived experience, to his unique art, and to the most profound of tragedies of the twentieth century."–Giuseppe Mazzotta, Sterling Professor in the Humanities for Italian, Yale University, and author of Dante's Vision and the Circle of Knowledge
"In their diverse ways, these essays testify to what by now should be irrefutably clear: Primo Levi was one of the most important writers of the past half-century. The brilliance of his achievement is clarified in the critical studies of this learned and engaging book."–Alvin H. Rosenfeld, Professor of English and Jewish Studies at Indiana University and author of A Double Dying: Reflections on Holocaust Literature and The End of the Holocaust
"An indispensable, wide-ranging collection of essays on a great writer and memorialist. Contributors analyze in depth not only his literary legacy but also his belated recognition as a world-class author, his relation to the Italian Jewish community, and Italy's 'cultural reticence' in dealing with the Holocaust."–Geoffrey Hartman, Professor of English and Comparative Literature, Emeritus, Yale University, author of The Longest Shadow: In the Aftermath of the Holocaust
Primo Levi's hold on scholarly, critical and public attention grows with the passing of time.  He commands a position of prominence in discourses ranging across the disciplines of Holocaust studies, Jewish studies, Italian literature, politics, history and philosophy.  Certain of his concepts (the "grey zone") or certain concepts popularized through his works (the Musulmann phenomenon) play a significant role in contemporary intellectual discourse. In addition, Levi's reflections on the act and the possibility of witness, and of recounting trauma, are increasingly cited by a range of thinkers.
This book presents a baker's dozen of interpretative keys to Levi's output and thought.  It deepens our understanding of common themes in Levi studies (memory and witness) while exploring unusual and revealing byways (Levi and Calvino, or Levi and theater, for example).  Of special interest and utility are the chapters that situate his thought within wider contexts: his epistemological connection to ancient Greeks, and his contributions to Holocaust phenomenology.