"Lyric prose is a way to enter the market: a parcel of prose is a lost continent"
Amelia Rosselli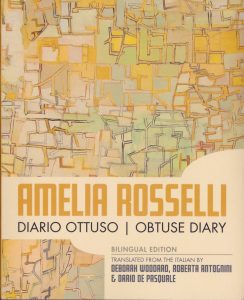 The growing interest in Amelia Rosselli (1930-1996), one of Italy's foremost poets of the second half of the 20th Century, now brings us a Bilingual edition of her Diario Ottuso/Obtuse Diary, a collection of three prose compositions.
These are early works composed, between 1954 and 1968, reveal an "unintentional unity" through trilingual word play, experiments in syntactic structure, and the music possible in prose. The texts are deeply persona and often startling— never simply a diary or an autobiographical fragment. Rosselli reclaims Italian on her own terms as she grapples with her experience as a "refugee".
Diario ottuso, published by Entre Rios Books, Seattle is translated by Deborah Woodard, Roberta Antognini and Diario De Pasquale.
Whether writing in prose or verse, Rosselli's preoccupation with language is always that of a poet. The scope of her poetry is perfectly captured in these considerations by Adrianne Rich: "The necessity of poetry has to be stated over and over, but only to those who have reasons to fear its power, or those who still believe that language is "only words" and that an old language is good enough for our description of the world we are trying to transform. […] Poetry is, among other things, a criticism of language. In setting words together in new configurations, in the mere, immense shift from male to female pronouns, in the relationship between words created through echo, repetition, rhythm, it lets us hear and see our word in a new dimension."
This handsome edition includes a download link to recordings of Deborah Woodard and Dario De Pasquale reading selections of the texts in the two languages.
About Amelia Rosselli's poetry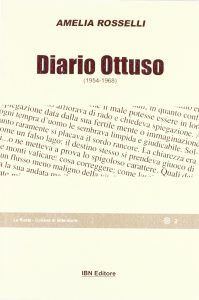 "A luxuriant, floral oasis at the margins of dominion."
—Pier Paolo Pasolini
"Amelia Rosselli is one of the Italian poets of the last century who pushed herself most forcefully, most painfully and most imprudently beyond the limits destiny had set for her."
—Elena Ferrante, The New York Times
Poet, musician, and musicologist Amelia Rosselli is considered to be one of the best Italian writers of the post-WWII generation. She was born in Paris to Italian parents who fled Italy. Her father and uncle, who were leaders of the anti-Fascist Resistance, were assassinated by the Fascist secret service when she was seven years old. She and her mother then moved to England, and later to the United States, where Rosselli was educated. She returned to Italy in 1949, and settling eventually in Rome. (from: The Poetry Foundation)