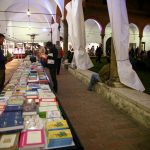 Festa del Libro Ebraico brings Ferrara front and center of Italian Jewish Life
Alessandro Cassin
Between April 26 and May 1, the city of Ferrara, (31miles North-East of Bologna and 48 miles South of Padua) will host the fifth edition of the Festa del Libro Ebraico, the main Italian Jewish book fair. Launched in 2010 in conjunction with the creation of MEIS, the National Museum of Italian Judaism and the Shoah (yet to be inaugurated), the book fair has grown from year to year into an international showcase for the cultural production of Jewish Italy. Centered around the remarkably rich output of books on Jewish themes by Italian publishing houses, the Festa Del Libro also includes concerts, theater productions, exhibits, debates, food tastings and much more.  The estimated attendance is a record 15.000 people.
Some of the highlights of this year's program include an exhibit focused on the Jewish themes in the work of Emanuele Luzzatti (1921-2007) – artist, set designer film director and Academy Awards nominated animator, a two-day symposium on Conversos, Marranos and the New Jewish Communities in Early Modern Times, conceived by Myriam Silvera (University of Rome, Tor Vergata) with the participation of major Italian and international scholars; a homage to the late Arnoldo Foà by the Fondazione Teatro Comunale; as well as  a presentation of the recent discovery by Mauro Perani of the most ancient complete Sefer Torah ( XII-XIII century) from the Library of the University of Bologna. There will be also the always well attended Conversazioni con l'autore, a chance to hear authors read and present their work in a lively interaction with the audience.  (For the complete list of events see www.meisweb.it/festa-del-libro-ebraico-2014/
The MEIS Foundation will also award the Pardes Prize for Jewish Culture and Tradition. This year's recipients are Lizzie Doron (fiction prize), Enrico Mentana (life time achievement award) and Gioele Dix (non-fiction prize).
The different venues provide an opportunity for an in depth visit inside this magnificent Renaissance city, where Jews settled as early as the year 1088 and flourished in the Fifteen Century under the House of Este.
Events will take place mornings, afternoons and evenings all over town, at Chiostro Di San Paolo, Libreria della Festa, Castello Estense, Cinema Boldini, Music Conservatory Girolamo Frescobaldi, Cortile d'onore of Palazzo Mosti, the liceo classico Ariosto, Museo Civico di Storia Naturale, Palazzo dei Diamanti, Palazzo Municipale, Teatro Comunale and the Torrione di San Giovanni.
The evening events are entitled Notte Bianca Ebraica D'Italia "E fu sera… e fu mattina".
According to Italy's Minister of Culture, Dario Franceschini, "The Festa del Libro Ebraico in Ferrara, can become a prototype of how to present culture and tourism".
The book fair is organized by Fondazione MEIS with the support of Ferrara Fiere and the sponsorship of the Ministero per i Beni e le Attività Culturali, Regione Emilia-Romagna, Provincia and Comune of Ferrara, University of Ferrara, The Union of Italian Jewish Communities and the Jewish Community of Ferrara.