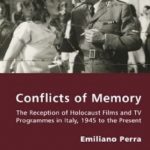 Emiliano Perra, Conflicts of Memories, Peter Lang, 2010
Emiliano Perra
Emiliano Perra is Visiting Fellow in the Department of Historical Studies at the University of Bristol and has previously lectured at the University of Cardiff. His publications include articles in Holocaust and Genocide Studies and Memory Studies.
Situated at the confluence of history, media and cultural studies, this book reconstructs the often deeply discordant and highly selective memories of the Holocaust in Italy in the postwar era. The author's core method is one of reception analysis, centred on the public responses to the many films and television programmes that have addressed the Holocaust from the 1940s to the present day. Tied to the heritage of Fascism, antifascism, and the Resistance, public memory of the Holocaust in Italy has changed greatly over the years. Self-acquitting myths of Italian innocence and victimhood, and universalising interpretations grounded in Catholicism and Communism, provided the initial frameworks for understanding the Holocaust. However, the last two decades have seen an increasing centrality of the Holocaust in memory culture but have also witnessed the establishment of a paradigm that relativises other fascist crimes and levels the differences between Fascism and antifascism. Working with the largest corpus yet established of Holocaust film and television in Italy, from the 1948 retelling of the Wandering Jew myth to Roberto Benigni's controversial Life Is Beautiful, from the American miniseries Holocaust to Perlasca: The Courage of a Just Man, Conflicts of Memory probes Italy's ongoing, if incomplete, process of coming to terms with this important aspect of its past.
Contents: Innocence and victimhood in early post-war Italian Holocaust debates – The place of the Holocaust in broader narrative of the war at the beginning of the 1960s – The universalisation of the Holocaust between the Resistance and the 'New Discourse' – The broadcast of NBC's Holocaust on Italian television – From the centrality of the Resistance to that of the Holocaust – Post-war debates on the Vatican during the Holocaust – A post-anti-Fascist memory of the Holocaust?